Intro
This mini guitar lesson will take you through 10 of the many warm ups that I create for my students, and how to get the most from them.
How to Use
Before starting your practice session, simply choose one of the guitar warm ups and repeat for 2 minutes or until your fingers feel thoroughly warmed up.
It's best to play them at a comfortable tempo to begin with, and not to go too fast until your fingers have warmed up first.
Notation Explained
The warm ups are notated in guitar tablature format, with pick strokes and fingerings. The pick strokes are displayed above the tab and the fingering are the numbers displayed below the tab.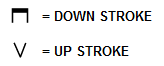 Metronome (optional)
To additionally work on your timing while warming up your fingers, try using a metronome. The exercises below are written as semiquavers (16th notes), which is four notes per beat. You can play them at any speed you like, so it could be one or two notes per beat if you prefer. They are displayed as semiquavers to make the exercises easier to read.
Warm Up Exercises










Outro
I take my students through a warm up at the beginning of each lesson. I find that the repetition really focuses the mind and gets your brain in gear as well as your fingers! My private one-one lessons will go into much more detail than this, and are completely tailored to suit you.
Contact me to book a lesson, or take a look at some of the other topics we'll cover.
---
If you've enjoyed this lesson, please share it!