Intro
This mini guitar lesson will introduce you to an easy and unique method of understanding simple strumming rhythms on the guitar.
Down & Up Strokes
First, here is the notation for down and up strokes: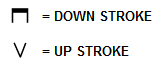 Start Simple
Start with a simple strumming pattern for you. It could just be 4 down-strokes per bar to start with: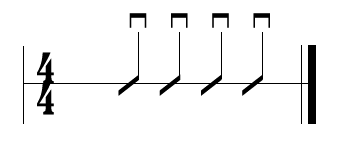 Add in the Up Strokes
Be sure to keep each strum consistently the same length. Then add the up-strokes in between your down-strokes to produce 8 strums per bar. You should now be strumming twice as fast as before.

...Miss Out Some Strums
The next step is to purposefully miss out some of the strums from each bar. For example, from your 8 strums per bar, try missing out the 2nd and 6th strums (both up-strokes) and you will produce a common rhythm that could be described (strumming-wise) as:
DOWN / DOWN-UP / DOWN / DOWN-UP

Try experimenting with this idea to create your own rhythms.
Outro
If you're in Leeds, I can help you to quickly and easily overcome the challenges of strumming on the guitar. My private one-one lessons will go into much more detail than this, and are completely tailored to suit you.
Contact me to book a lesson, or take a look at some of the other topics we'll cover.
---
If you've enjoyed this lesson, please share it!